With a new baby on the way, we have to make room. And this meant moving Maddie into her own big-girl's room. And the big-girl's room was going to need furniture. I had my mother's old chest of drawers out in the garage holding some stuff that we'd never need. It was time to see if I could refurbish it and use it in Maddie's new room.
Originally, the dresser had a fine faux dark natural wood finish. But it's over 35 years old, and that finish was showing its age. Actually, I didn't even know the "grain" was fake until I sanded it off. I got under the fake grain and found some decent panelling. But this dresser was going into a bland room, and we wanted something that would add some color.
It took some thought, but we decided on light green. I mocked up a doodle of the dresser in Paint Shop Pro, added some flowers, and we decided that that's the way it should look.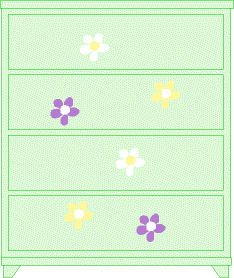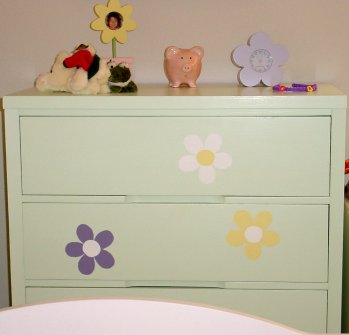 The refurbishing of the dresser took me a month with only one session per week during that month, so that's about 4 sessions. Basically, it was sanding, priming, painting, and painting a second coat. The dresser is a little rickety due to its old age, but we hope it'll last us a few more years.
Who We Were Then
Lillian
Maddie (2 years old)