A few days ago, Maddie drew the following picture, a recreation of a scene from her day at school:
Naturally, I was pleased. Her teachers must have been encouraging the kids to shake hands as a gesture of friendship. So I asked her which kids were befriending which other kids.
"That's Ash punching Marissa. And that's me punching Edmund."
So. My daugher illustrated her first schoolyard rumble. OK, it's not so much a rumble since everybody is smiling, and Maddie hits like a girl. But still, I couldn't help but wonder what drawings might come our way in the near future if we let this trend continue.
I hereby present my extrapolation of future illustrations: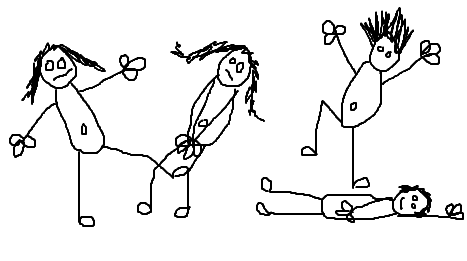 And
Who We Were Then
Lillian
Maddie (5 years old)
Aaron (2 years old)