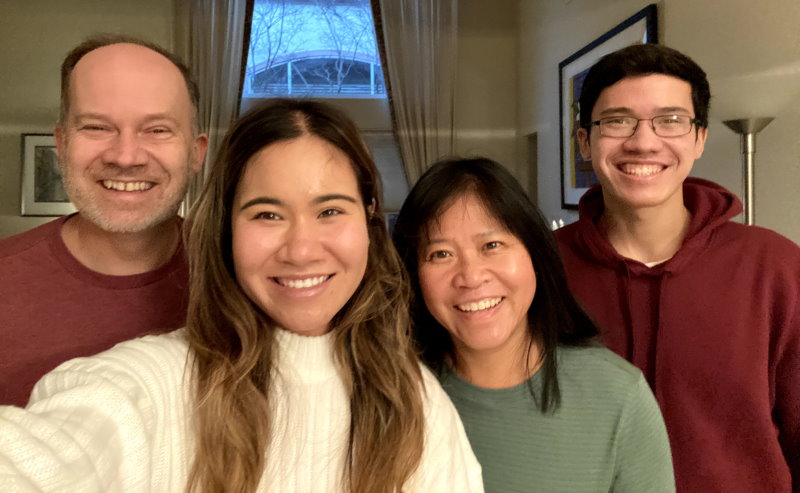 No matter when you read this, Happy New Year!
2020 was a hard year. I hope that we all manage to do better next year. (Especially Americans, who can do so much better when they put their minds to it.)
We used to send out Christmas cards that featured some photos from our year to illustrate our favorite moments. Not this year, though. Since we spent the year sheltering in place, here's a selfie (above) of the four of us in our dining room at home, lit by artificial yellow light. That's 2020 for you.
While sheltering in place we've been learning new games to play together. We've played old favorite card games like Big Two and Chinese Poker (easier than Big Two), and we've played dice games like Zombie Dice (quick and fun) and Yahtzee (a standard).
They say first responders are heroes. It's true. I remember Lillian's tears after coming home from work because they didn't have the resources to care for COVID-19 patients. And she keeps going back. If I ever have to be hospitalized, I'd want someone like her to care for me.
We lost Lillian's mom to cancer late this year. She was strong and generous, and she kept her family coming together year after year. She was the kids' last living grandparent.
The kids' schools and my work all found ways for us to do our work from home. It's a mixed blessing. We're in each others' faces all the time, but when we can return to a more normal routine, we'll miss that comforting proximity of family we had. It's nice that they're right there.
Happy New Year to you. Let's see what we can accomplish tomorrow, and the tomorrow after that.